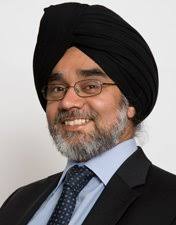 Lord Justice Rabinder Singh discusses his new book, The Unity of Law, and reflects on the defining themes of his career as advocate and judge with LSE Law School's Professor Conor Gearty. This event is held in partnership with LSE Law School and will be hosted by them.
The discussion will range over Sir Rabinder's career and his experiences as first an advocate and then as a judge, both in the High court and the Court of Appeal. Expect a conversation which touches on areas as diverse as judicial review, equality, and privacy and personal autonomy.
Meet our speaker and chair
Sir Rabinder Singh is a Lord Justice of Appeal and President of the Investigatory Powers Tribunal.  Having been in practice at the Bar, he was appointed to the High Court in 2011 and the Court of Appeal in 2017. He was a Visiting Professor at LSE from 2002 to 2009.  He was chair of ALBA from 2006 to 2008 and is now its President. His book The Unity of Law is a collection of essays and lectures from the last 25 years, covering a wide range of topics, including public law, human rights, criminal law and international law.
Conor Gearty (@conorgearty) is a Professor of human rights law at LSE Law School. He has published widely on terrorism, civil liberties and human rights. Conor is also a barrister and was a founder member of Matrix chambers from where he continues to practise.
More about this event
LSE Law School (@LSELaw) was ranked first for research outputs in the most recent Research Excellence Framework (REF) and in the top 10 law departments overall by The Complete University Guide in 2020. In the QS World University rankings for 2020, the Department was ranked sixth (out of 200 departments worldwide). Their staff play a major role in helping to shape policy debates, and in the education of current and future lawyers and legal scholars from around the world.
This seminar will take place via Zoom.
You can also receive 20% off The Unity of Law at www.bloomsbury.com with the discount code UG8 on checkout.
The podcast can be downloaded here:https://richmedia.lse.ac.uk/law/20221801TheUnityofLawwithLordJusticeSingh.mp3